Here's what Bernie Sanders, U.S. Senator from Vermont, is saying about immigration: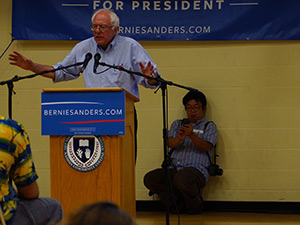 "America has more people behind bars than any major country – more even than China, an authoritarian regime," Sanders said. "We cannot fix our criminal justice system if corporations are allowed to profit from mass incarceration. Companies should not be allowed to make a profit by building more jails and keeping more Americans behind bars. We have got to end the private, for-profit prison racket in America."
Public programs to prevent incarceration and support rehabilitation cost much less per inmate than paying private corporations to imprison millions of Americans. "Instead of investing in jails and incarceration, our focus should be on providing jobs and education to keep people out of jail and on ensuring prisoners have the resources they need to get back on their feet when they get out," 
'Sanders has introduced legislation to bar states and the federal government from contracting with private prison companies. The Justice Is Not for Sale Act, introduced in the House by Reps. Raúl M. Grijalva (D-Ariz.), Keith Ellison (D-Minn.) and Bobby L. Rush (D-Ill.), would also reinstate the federal parole system, increase oversight over companies that provide banking and telephone services for inmates and end the requirement that Immigration and Customs Enforcement maintain 34,000 detention beds." – sanders.senate.gov
~~ Feb 26, 2016
There's a horrendous level of bigotry and racism in attacking these people. We have people like Trump saying Mexicans are criminals. That is an outrage. We need comprehensive immigration reform and a path toward citizenship." –  Dispath
~~ Feb 25, 2016
This campaign is listening to our brothers and sisters in the Latino community. They are saying that they are tired of living in the shadows. They want and need comprehensive immigration reform. – Bustle
~~ Feb 25 , 2016
"We need to solve problems like immigration in America, not use these issues to promote division and hostility." –  Via Twitter
~~ Feb 21, 2016
"Glad to hear @HillaryClinton's promise to remove the three and ten year bars against returning immigrants put in place by the Clinton admin." – Via Twitter
~~ Feb 18, 2016
"We need immigration reform to make sure corporate America can't exploit vulnerable migrant workers. The 2007 bill didn't meet that standard." – Via Twitter
~~ Feb 18, 2016
"Q: Senator, Bernie Sanders, you stated in the past that the reason why you voted against immigration reform in 2007 was because it wasn't perfect. As president, would you veto or shot at immigration reform if it wasn't deemed perfect by you?"
Sanders: "I voted for immigration reform in 2013 because it was a much better piece of legislation. I voted against the legislation in 2007 in agreement with groups like LULAC, one of the large Latino organizations, in agreement with the AFL-CIO for a number of reasons. I'll tell you one of them included in that legislation was a guest work of provision which organizations saw as almost akin to slavery. Guest workers came in and if they didn't do what their bosses wanted them to do, if they didn't accept exploitation and cheating, then they would be thrown out of the country. Many of the workers were terribly, terribly exploited. That was the major reason I voted against it. I don't want to see workers in this country exploited. But I did vote for the 2013 and let me say this more importantly, I want to take a 11 undocumented people in this country out of the shadows, out of fear that they are experiencing every single day. I want Congress to do its job. Under Senator Reid we did pass immigration reform. Unfortunately he house did not. As president I will do everything I can to pass immigration reform and path toward citizenship for those who are undocumented."
Q: "Even if it's not to your best liking?"
Sanders: "Of course. It's not that I didn't think it was perfect. It's not a question of being perfect. Nothing is perfect. That has particular egregious provisions in it."
Q: "My question to you, sir, if you become the President of the United States, what would you do about the bars, my husband. I'm an American citizen. My girls are American citizens. My husband was here 18 years. I try to bring him out of shadows how you said and I petitioned him. They gave him a ten-year bar. He's been in Mexico during his ten years, six years now we've been separated. My little girl was in kindergarten when he left and the other one was in middle school and now she's going to graduate high school this year and her dad is not here to see that. What would you do to bring my husband home?"
Sanders: "What you just described is unacceptable and should not be happening. My immigration policy is to unite families, not to divide families. When I was here in Las Vegas a couple of months ago, I heard a story, a young man who was in the United States military while he was the United States military his wife was deported. Can you believe that?"
Q: "Yes."
Sanders: "Clearly those are not the policies that I want to see, and I will change those policies."
Q: "When you get there, how long would it get to change those policies? I've been waiting six years. Six years out of my life."
Sanders: "I can't — we will use our executive office and power as much as we can. Hopefully we'll have the cooperation of the United States Congress."
Q: "Hello. I'm here as the vice chairman of the Nevada Democratic veterans and military veterans and as an undecided voter. We have become aware in the last 20 years there's been hundreds of veterans who have served honorably as legal U.S. residents in the military. After discharge they ran a foul of the law for possession of illegal drugs or non-violent crime. As a result their legal status was revoked and they were deported. In many cases they ended up countries they left when small children unable to speak the language. Remember we're talking about veterans who served our country and people of comrades mind and arms. Is this fair and what would do you about it if elected?"
Sanders: "I was the former chairman of U.S. Senate committee on Veterans affairs. In that capacity I did all I could to expand health care and provide the benefits that our veterans are entitled to. What you are describing seems to be an outrage. If people put their lives on the line to defend this country and willing to die for this country, I don't think you deport those people."
Q: "Senator What is your line when it comes to who gets deported and who's not?"
Sanders: "I didn't hear that."
Q: "President Obama has deported more folks than any other President. What is your criteria for deportation? They're folks in this this country that are undocumented. What is criminals? Some people think just being here/"
Sanders: "If someone is a violent criminal, they should be deported. As I said a moment ago, my own view is that our policy as a nation, and what I believe, is we should unite families not divide families. We should not be sending people back to a country that they can barely remember and a language they may not be able to speak.
Q: "How quickly will you get immigration reform done?"
Sanders: "It's a top priority."
Q: "First 100 days?"
Sanders: "I'm not a dictator here. But it is a major priority when you have 11 million people living in the shadows, we owe it to them to move as quickly as we can. I will continue President Obama's effort to use executive powers."
Q: "We're also proud, peace loving American Muslims. We're the parents of two children. We're very concerned about the safety of our children with the islamophobia that's rampant right now. As president, how would you address islamophobia?"
Sanders: "Bluntly and directly. This country's greatness relies on the reality that throughout our history we have welcomed people into this country. My dad came from Poland at the age of 17. People can disagree about immigration and immigration reform. I believe we need comprehensive immigration reform taking people out of the shadows. It's absolutely unacceptable to me that in the year 2016, we have people like Donald trump and others who are trying to gain votes by scapegoating people who may be Muslims or people who may be Latinos. That's unacceptable." – NBCNews
~~Feb 18, 2016
"We cannot continue to round up and deport thousands of immigrant families to address a crisis that requires compassion and humane solutions." – Via Twitter
~~ Feb 17, 2016
"Today, shamefully, we have more than 12 million Latinos living in poverty in this country." – Via Twitter
~~ Feb 17, 2016
"Our  immigration policies must be consistent with our historical commitment to provide protection and due process to those fleeing violence and persecution. We must stand up for the rights of the powerless and extend proper legal protection to children and other vulnerable immigrants. We will not tolerate calls to send back unaccompanied children and victims of crime and domestic violence to the countries they have fled."
"Our guiding principle in terms of immigration reform must be to unite families, not divide them up." –  LatinPost
~~ Feb 16, 2016
"I will lead the effort for comprehensive immigration reform and a path toward citizenship." – Via Twitter 
~~ Feb 16, 2016
"You can have a different point of view on immigration or anything else, but we cannot be attacking people because of their religion." – Via Twitter 
~~ Feb 15, 2016
"Proud to be on the opposite side of an anti-immigration hate group." – Via Twitter
~~ Feb 14, 2016
"America is about standing together as one people, not allowing ourselves to be divided up by religion or nationality." – Via Twitter
~~ Feb 14, 2016
"I've put forward an immigration plan that protects children and keeps families together. It is time for @HillaryClinton to do the same." – Via Twitter
~~ Feb 12, 2016
"I am running for president because 11 million undocumented people cannot continue living in the shadows." – Via Twitter
~~12 Feb, 2016
"Victims of crime and domestic violence should not be afraid of being deported for calling the police. We need new policies to ensure that immigrant communities are treated fairly." –  Sanders.Senate.gov
~~Feb 11, 2016
"My friends, we must fix our broken immigration system that divides families and create a path toward citizenship for hardworking people who are living in the shadows." – Vox
~~Feb 9, 2016
"As president, I will fight for comprehensive immigration reform that provides a pathway to citizenship and is grounded in civil, humane and economic rights. But let me be clear: I will not stand idly by waiting around for a dysfunctional Congress to act. Instead, during the first 100 days of my administration I will take extensive action to accomplish what Congress has failed to do and to build upon President Obama's executive orders" – BernieSanders.com
~~Nov 24, 2015