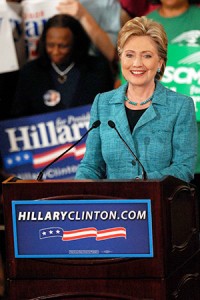 Here's what Hillary Clinton, wife of the 42nd President of the U.S. Bill Clinton and former Secretary of State of the U.S., is saying about immigration:
"We can break down barriers for hard-working immigrants everywhere who are too often exploited and intimidated." – Time
~~ March 1, 2016
"Instead of building walls, we need to be tearing down barriers. We need to show that we really are all in this together." —Hillary in SC – Via Twitter
~~ Feb 27, 2016
We need comprehensive immigration reform to keep families like Karla's together. #GOPdebate – Via Twitter
~~ Feb 25, 2016
We will not rip families apart. We will defend @POTUS's actions on immigration and go further to keep families together. #GOPdebate – Via Twitter
~~ Feb 25, 2016
We should build a path to citizenship, not a wall on the border. #GOPdebate – Via Twitter
We are not going to deport 12 million people. Demonizing immigrants is beneath our values. #GOPdebate – Via Twitter
~~ Feb 25, 2016
We shouldn't force families to choose between breaking apart or living in fear. – Via Twitter
~~ Feb 23, 2016
"If we face the reality of systemic racism, we can begin to reform our broken criminal justice & immigration systems." – Via Twitter
~~ Feb 22, 2016
"We feel very blessed with opportunity—like we've reached our American dream. That started with an immigrant story." – Via Twitter
~~ Feb 19, 2016
"We will have legislation to enact comprehensive immigration reform before Congress within my first 100 days in office." – Via Twitter
~~ Feb 18, 2016
" We will call on Congress to repeal the 3/10 year bars on immigrants reentering the US. These provisions tear families apart and should end." – Via Twitter
~~ Feb 18, 2016
"Thankful for @Pontifex's visit to the border and call for immigration reform. We need to keep families together, not break them apart." – Via Twitter
~~ Feb 17, 2016
"Right now, millions of families are waiting for SCOTUS to decide on @POTUS' executive actions on immigration." – Via Twitter
~~Feb 15, 2016
"If we claim we are for families, then we have to fix our immigration system. We can't wait any longer for a path to full, equal citizenship." – Via Twitter
~~Feb 15, 2016
"This election is important for many reasons. It just got even more important yesterday because of the death of Supreme Court Justice Scalia. In the Supreme Court, because of his passing, there will be most likely a tie, four to four, on important issues that affect so many people in our country. And the most important is the decision about President Obama's actions under DACA and DAPA.
Immigrants including "Dreamers," the children of illegal immigrants brought to the United States as minors, cannot afford to wait for a decision about their fate.
If there is no new justice appointed, then as with other cases before the court, the decision that was decided will stay in place. And that was a bad decision. I disagreed with it. I don't think it was the right legal interpretation, I believe President Obama had the authority to do what he did.
So this is a very important issue and as many of you are already working in my campaign, I want people to know this, too: We have a president, he was elected, he has the right to nominate another Supreme Court justice." – WashingtonPost
~~ Feb 14, 2016
"We are not going to deport 11 or 12 million people in this country." – Still4Hill
~~Feb 12, 2016
"Hardworking immigrant families living in fear who should be brought out of the shadows so they and their children can have a better future." – TheGuardian
~~Feb 12, 2016
"Immigrant families shouldn't have to lie awake at night listening for a knock on the door." – HillaryClinton.com
~~9 Feb, 2016
"We're going to fight for real solutions that make a real difference in people's lives." – Vox
~~9 Feb, 2016