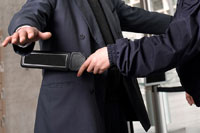 People traveling to the United States will have to clear immigration and customs, at the port of entry. Your travel documents will be reviewed at the port of entry and it is mandatory to obtain all the required travel documents prior to leaving your home country. You will be given Form I-94, prior to reaching the United States and you will have to fill out the CBP Form I-94, if you are not a citizen of the United States. Apart from that, US citizens and the other foreign nationals must complete a customs declaration form. It is mandatory to keep all the immigration papers ready as you will be required to present all the relevant documents during immigration inspection.
After you land, you will be directed to the inspection area. US citizens must go to the lanes that are meant for them and foreign nationals to the other lanes. You will have to submit your passport, customs declaration form and other forms to the immigration officer and the officer will validate your passport after scanning it. Form I-94 will be stamped and returned to you along with your customs form. Followed by that, you may claim your checked baggage. In certain circumstances, travelers may be required to go to the secondary inspection area.
If you have any items to declare, you will have to go to the lane marked "Goods to Declare" and you may be subject to duties and taxes if you have something to declare, if not, you may go to the other lane. After declaring, you may exit the customs and immigration facilities. See to that you follow the signs and make sure that you do not get lost. Moreover, you may not be able to re-enter, once you leave the customs area and so you need to ensure that you have all your personal belongings with you, prior to leaving the customs and immigration facilities. You must never lie to the customs officers and if you try to cheat the customs officers, you may not be permitted to enter into the country and you will be barred from entering into America.