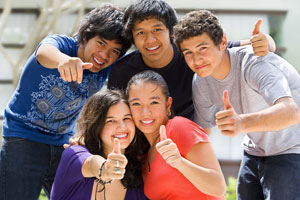 There are around 2 million DREAMers in America and the DREAMers are the young undocumented immigrants who were smuggled into the country or who were brought to the country illegally by their parents. Deferred Action for Childhood Arrivals (DACA) is a program that was introduced by President Obama in 2012 and this program has now turned one. Immigrants who received this status, gathered on Saturday and celebrated the first year anniversary of this program. This program has changed the lives of many undocumented youth who were earlier living in shadows with the fear of deportation. However, out of the 2 million undocumented youth, only 500,000 have so far filed their applications for deferred action status and around 365,237 of them have received deferred action status. Such undocumented youth have now started to contribute to the country's economy and they also contribute to federal and state taxes, to Social Security and to Medicare.
Carlos Martinez, a deferred action recipient who holds two engineering degrees was earlier working in construction, as he was unable to use his degrees. That was just because he was an undocumented immigrant. Soon after President Obama implemented the deferred action program, he applied for this temporary status and he received deferred action status and an employment authorization document. He will soon start working for IBM and he says that the President's deferred action program has changed his life. He started preparing and collecting the required supporting documents, even before the forms and guidelines were made available. He is now happy as he has got his dream job in IBM.
Esther Yu-Hsi Lee, a deferred action recipient who works for ThinkProgress, stated that she likes the deferred action program that permits the young people to work and study in America, though it does not provide a pathway to US citizenship. She stated that this program has helped her to work and earn legally. According to her, deferred action recipients contribute to the economy of the country and DACA has helped millions to come out of their shadows. Similarly, this program has benefited many undocumented youth who were brought up and educated in America.
Though this program is helping the young undocumented youth in America, few American states like Nebraska and Arizona are against this program and these states are preventing the deferred action beneficiaries from obtaining driver's licenses and state benefits. Nevertheless, the Senate is now debating on the comprehensive immigration reform legislation that was introduced by the Gang of Eight. This bill, if signed into law, would permit the DREAMers and the other undocumented immigrants to enter the legalization process.