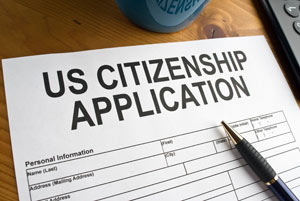 A green card holder will have to renew his/her green card every ten years, to maintain his or her legal permanent resident status.
Currently, they will have to pay $455 as application filing fee and $85 as biometrics fee to the USCIS to get a green card renewed. Assuming a green card holder is of age 25, he or she will have to spend $3000 approximately on green card renewal during their expected lifetime, which is a lot of money!
Check If You're Eligible for US Citizenship
The fees for renewal may not remain the same as U.S. Citizenship and Immigration Services (USCIS) keeps increasing the application filing fees, so they are likely to be paying more for green card renewal in future.
Green cards can be renewed even after they expire. But, it is not right to let the card expire. USCIS might consider legal residents who hold long expired cards and who do not renew their cards willfully for a long time, to be guilty of a misdemeanor.
That is because the green card is a legal document that will help them prove they are not undocumented and that they have legal status in the country.
Considering the costs involved in green card renewal, many believe it is a good idea to apply for U.S. citizenship. A legal resident just needs to wait for five years after getting a green card to apply for U.S. citizenship.
However, there are quite a few requirements that they need to meet to file Form N-400, Application for Naturalization, with the immigration agency.
The current filing and biometrics fees for U.S. citizenship are $640 and $85 respectively. It is only a one-time payment for citizenship.
This means, once legal residents gain citizenship status, it may not be revoked from them by the country. They also need not keep renewing it like how they renew their green cards every ten years.
A green card's validity is only for ten years but there is no expiration date for citizenship. A green card holder just has to spend once for citizenship and remain in the U.S. forever without fear of being questioned about their status and without having to remember the renewal dates.
Likewise, they need not repeatedly go through the tiresome process of filing an application and saving money for the application filing fees.
Green card holders can check their eligibility for U.S. citizenship here.