Here's a recipe for Spanish Style Lamb Meatballs with Tomato Sauce!
Lamb Meatballs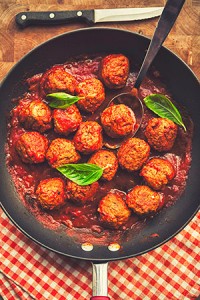 Ingredients:
1 pound ground lamb
1/2 cup plain bread crumbs
1 onion, finely chopped
½ cup finely chopped fresh parsley leaves
1/2 tsp ground nutmeg
1 tsp dried oregano
1/2 tsp ground cumin
1/2 tsp garlic powder
1 cup finely grated cheese
4 tbs olive oil
kosher salt and ground black pepper to taste
Directions:
Cook onions in olive oil over medium heat for around three minutes. Add salt and pepper and cook for another ten minutes, until onions turn golden brown. Let the onions cool.
Sprinkle water on bread crumbs in a medium bowl to moisten them and toss. Combine well ground lamb, onion mixture and bread crumbs.
Add garlic powder, cumin, parsley, nutmeg, oregano, cheese, salt and pepper to it. Mix well and shape the mixture into meatballs of desired size, may be around 2 inches in diameter.
Heat two tablespoons of olive oil in a frying pan and cook the meat balls. Cook meatballs for around three minutes, until they turn brown.
Tomato Sauce
Ingredients:
1 onion, finely chopped
2 garlic cloves, crushed
1 can whole tomatoes
2 tbs brown sugar
1 tbs malt vinegar
2 tsp lemon juice
1 tbs cornflour
1 tbs butter
1/2 cup water
Salt to taste
Directions:
Heat butter in a deep frying pan. Cook finely chopped onions until they turn translucent.
Add tomatoes, crushed garlic cloves, corn flour, malt vinegar and water to cooked onions. Stir and bring to a boil. Add brown sugar to it and stir occasionally. Keep the pan covered for around 10 minutes.
Add meatballs to the tomato sauce and simmer. Gently stir until the sauce is slightly thickened. Transfer meatballs in tomato sauce to a serving dish.
Serve meatballs topped with grated cheese. Add a generous squeeze of lemon over meatballs in tomato sauce for added taste.
Keep track of our immigration blog for more recipes.