Learn to cook Cilantro-Avocado Lime Marinated Chicken Chops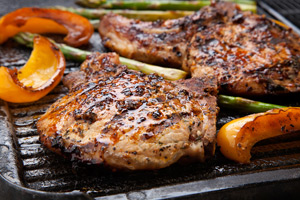 People who love recipes that need less time to prepare will love this dish. This in fact is one of the most famous and best Cilantro-Avocado Lime Chicken Chops Recipes and it is a traditional Mexican dish!
Ingredients for Cilantro-Avocado Sauce:
1/2 cup Cilantro stems
3 cloves garlic, sliced
1 Avocado
Juice of 1 large lime
1 teaspoon chipotle seasoning
1/2 Jalapeño pepper
2 tablespoons light olive oil
1/2 teaspoon cumin
Salt to taste
Method:
Add the above ingredients to a blender and process until smooth. Avocado needs to be pitted and peeled before it is added.
Ingredients for chicken chops:
6 chicken chops, about 2 pounds
Salt and pepper
Oil for grilling
Method:
Start with seasoning the chicken chops with salt and pepper. Place the seasoned chops, coated evenly with Cilantro-Avocado sauce, in a dish or in zip-lock bag. (A zip-lock freezer bag makes for easy clean up.) Seal the bag or cover the dish and keep it in the refrigerator for 1 or 2 hours for marination. Take the marinated chops out of the refrigerator 15 to 30 minutes before cooking.
Place the chicken chops in the preheated stove top grill. Leave the chops undisturbed for 4 to 5 minutes until it comes off the pan easily. Cook thicker chops for a little longer, until done. Remember to sprinkle oil on the pan before placing the chops.
Place the cooked chicken chops on a platter. Garnish with chopped cilantro, oregano or thinly sliced green onions and sliced tomatoes and cucumber. Serve the garnished Cilantro-Avocado Marinated Chicken Chops with extra Cilantro-Avocado sauce.
Herbs like oregano, parsley or basil are a good substitute for cilantro. This dish can be made with pork and fish too. It is easy and quick to prepare at home. People who love Mexican style chicken chops do not have to hunt for a Mexican restaurant, but can cook this dish for themselves.
Keep track of our immigration blog for more recipes.