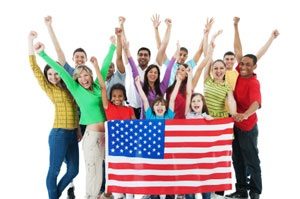 The bipartisan Gang of Eight that includes four Republican and four Democratic senators, in April unveiled an immigration reform bill and this bill was passed by the Senate Judiciary committee after a few changes were made to the bill. The aim of this bill is to fix the immigration system of America. This bill would address the needs of the children of immigrants who comprise 25 percent of America's child population. The Senate bill includes few provisions for such children and DREAM Act eligible students, who were brought up in the United States.
DREAMers who establish that they were brought to the country before age 16 and that they are high school graduates, would be put on an expedited 5 year path to US citizenship. They need to apply for temporary Registered Provisional Immigrant status just like the other undocumented immigrants but they can apply for lawful resident status after five years whereas the other undocumented immigrants would be required to wait for ten years to apply for Green Cards. Soon after the DREAMers become permanent residents, they could apply for and obtain US citizenship. Moreover, the DREAMers would be exempt from penalties but would not be entitled to federal financial aid.
This bill would also grant the dependent children of undocumented immigrants, derivative eligibility. If the parents apply for Registered Provisional Immigrant status, their children would become eligible for derivative status. Even if the parents are not granted RPI status, their children would be granted RPI status and permitted to remain in America. Undocumented children and youth below age 21, would not be required to pay the form filing fee and the penalties. Nevertheless, undocumented children and youth who do not meet the DREAM Act requirements would not be provided with an expedited path to citizenship and they need to wait for 13 years to become US citizens.
The Gang of Eight's immigration reform bill would grant waivers to certain categories of youth and family members of US citizens and Green Card holders, who were deported. Immediate relatives of US citizens and Green Card holders who were deported from America, before 31st December, 2011, would be allowed to apply for RPI status and return to America. This would also apply to the DREAMers who were deported before 31st December, 2011 and these DREAMers could file applications for RPI status and get back to America. Few changes would be made to the family immigration system. Changes that the bill would make, would reduce the instances of family separations and the bill would also protect unaccompanied vulnerable children. Such children who enter into the United States to reunite with their family members or in search of safety, would be protected and advocates for such children would be appointed by the Attorney General, at the expenses of the government.