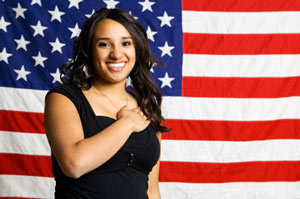 The last step in the U.S. citizenship process is taking the Oath of Allegiance. U.S. Citizenship and Immigration Services (USCIS) will schedule oath ceremonies after it approves Form N-400, Application for Naturalization filed by the applicants. Applicants also need to pass the U.S. citizenship test and get through the interview, to take the oath.
USCIS will either permit the prospective citizens to take the oath in judicial ceremonies, where the court will administer the Oath of Allegiance or in administrative ceremonies, where USCIS will administer the oath.
In certain cases, USCIS will conduct the oath ceremony on the day of the naturalization interview. If that does not happen, USCIS will send Form N-445, Notice of Naturalization Oath Ceremony, to the applicants with information on the location, date and time of the naturalization ceremony.
If the applicants believe that they may not be able to make it to the scheduled ceremony, they need to return Form N-445 to the local USCIS offices. Along with that, they need to submit letters requesting USCIS to reschedule their interviews, with reasons why they cannot attend the oath ceremony.
Applicants need answer questions on the back of Form N-445 before they arrive at the ceremony. USCIS officers will review their responses once they arrive. Followed by that, they need to turn in their green cards and give up their permanent resident status. That is because they no longer need their green cards as they will be issued naturalization certificates after they take the oath.
Once they take the oath, they will be granted certificates of naturalization. These certificates can be used as proof of U.S. citizenship. When they take the naturalization oath, they will pledge that they will renounce allegiance to all other foreign countries and promise to support and defend the U.S. Constitution. After becoming U.S. citizens, they can apply for US passports and register to vote. They can also update their Social Security records.