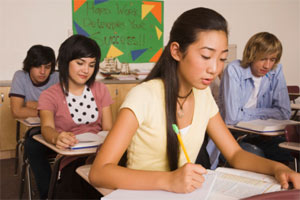 The U.S. Immigration and Customs Enforcement (ICE) has planned to make changes to the International Student and Exchange Visitor Program (SEVP). The changes the ICE has proposed to make to the SEVP will improve management of international student programs. It will also help the spouses and the children of international students to study in America.
The United States welcomes international students and offers a number of program options to them. International students can either obtain M-1 visas or F-1 visas, to study in the United States. F-1 visas are for academic students. With F-1 visas, international students can enter the country as full-time students. These visas are for the students who wish to enroll in programs that culminate in degrees, diplomas or certificates at accredited colleges, universities, seminaries, academic or elementary schools, or in language training programs.
M-1 visas are for vocational students who seek to enroll in non-academic programs or vocational programs. International students need to make sure that the schools they wish to attend are SEVP certified.
The proposed changes will permit the school to determine the number of designated school officials (DSO) that it will have. At present, a certified school can have only up to 10 DSOs. The proposed change will eliminate the limit of 10 DSOs. DSOs in SEVP certified schools help the international students who hold F-1 and M-1 non-immigrant visas to maintain their status in the country and fill out the required government forms. They also help the student visa holders to obtain immigration benefits in the country.
If the proposed changes are implemented, eligible dependents like the spouses and the children of the international students will be permitted to study in America. They will be allowed to study part-time in SEVP certified schools.
According to the SEVP Director Louis Farrell, the proposed changes will help the international students to study in America and will also permit the dependents of those students to study in the country. The proposed changes will attract more international students. By encouraging the most talented foreign students to study in America, these changes will enhance the competitiveness of the country. The proposed rule is open for public comment until 21st January 2014.