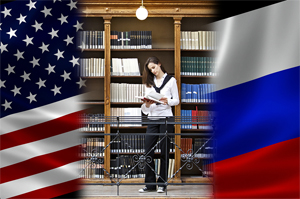 Soviet-born immigrants are emerging as popular writers in America. Some of these writers moved to the U.S. as children and adopted English as their primary language, whereas for those who immigrated in their 20s, learning English was not so easy. More than 1.5 million Russian-speaking Jews have left the Soviet Union since the mid-1970s and have settled in other countries. Many have become writers in the countries in which they have settled. This has led to the creation of a new global genre commonly called, 'translingual Russian diaspora fiction.'
Great books have been published this year by acclaimed Russian-American writers like Boris Fishman, Gary Shteyngart, Kseniya Melnik and Lara Vapnyar. Some of the best works published by immigrant writers include Gary Shteyngart's "The Russian Debutante's Handbook" (2002) and "Absurdistan" (2006); Canadian David Bezmozgis' short story collection "Natasha and Other Stories" (2004); Olga Grushin's "The Dream Life of Sukhanov" (2006); and Ellen Litman's "The Last Chicken in America" (2007).
Boris Fishman, who was born in the Soviet Union and was brought up in the U.S., says that he moved from a place that offered him very few choices to a place that offers him a lot. Fishman moved to New York City at the age of seven from Minsk. Though he picked up English with ease, he feels culturally connected to Russia.
Gary Shteyngart published his first novel, "The Russian Debutante's Handbook," in 2002. According to Shteyngart, immigrant life provides a great deal of tension that is good for writing. Gary Shteyngart's The Russian Debutante's Handbook that earned enormous accolades, encouraged other Russian-American writers like Lara Vapnyar, David Bezmozgis, Ellen Litman, Anya Ulinich, Sana Krasikov, Irina Reyn, and Maxim D. Shrayer, to write mainstream literature. This year, he published his memoir "Little Failure" that tracks his family's immigration from the Soviet Union to the U.S.
Kseniya Melnik, the author of "Snow in May", moved to the U.S. from Magadan, at the age of 15. Her debut collection of short stories, Snow in May is Russian-themed but she says that she is trying to emphasize that she is not writing about Russia.
Lara Vapnyar says that she is always a kind of an outsider in both the countries. Most of Vapnyar's works are enthused by her own experience and she says that her life improved when she started to write in English. Her first book, "There Are Jews in My House" (2004), gained high acclaim. According to Vapnyar, immigration gives everyone a second life but those leaving their countries behind lose touch with their countries and their languages.