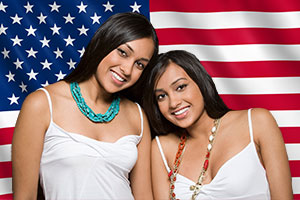 U.S. citizens have the privilege of sponsoring their brothers and sisters. The petitioning U.S. citizen must be at least 21 years old to sponsor sister to the US . U.S. immigration laws do not allow green card holders to sponsor their brothers or sisters.
To sponsor a sister, the U.S. citizen must file Form I-130, Petition for Alien Relative. This petition must include copies of birth certificates of the petitioner and the beneficiary. This is to show that they have at least one common parent.
Along with that, the U.S. citizen must submit proof of citizenship. Proof of citizenship could be a U.S. passport, U.S. birth certificate, naturalization certificate, certificate of citizenship or a Consular Report of Birth Abroad.
If the sponsoring U.S. citizen and the beneficiary are related through adoption, a copy of the adoption decree should be submitted. U.S. citizens can sponsor a sister related through adoption only if the adoption took place before they both turned 16.
A copy of the marriage certificate of the stepparent and the natural parent must be provided by a U.S. citizen sponsoring a sister related through a stepparent. They also need to submit documents showing that the prior marriages of the natural and the stepparent were terminated before they entered into the current marriage.
If the U.S. citizen and the beneficiary have a common biological father but different mothers, copies of marriage certificates of the father to each mother and copies of divorce papers to prove that any prior marriages of the father or mothers were legally terminated, must be submitted.
Unfortunately, sisters of U.S. citizens do not have the privilege to immigrate to the U.S. immediately like the U.S. citizen's husband or wife. Sisters belong the fourth preference category for which the wait times are too long. Depending on their country of birth, they will have to wait for ten years or even more to get an immigrant visa.
Approval of Form I-130 does not confer any right upon the beneficiary. The U.S. citizen's sister who is living abroad will have to wait until her priority date becomes current after which she can apply for an immigrant visa in the overseas U.S. Embassy or Consulate. If she is in the U.S. she will have to wait until her priority date becomes current to apply for adjustment of status. Until then, she will have to maintain lawful nonimmigrant status in the U.S. Only the immediate relatives of U.S. citizens can file to adjust their status concurrently when Form I-130 is filed. This does not apply to relatives who belong to other family preference categories.