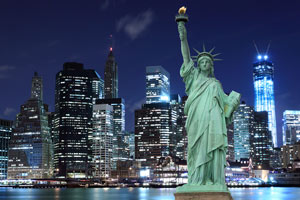 Though the Green Card lottery or the Diversity Visa (DV) lottery program, is supported by many, there are some lawmakers who are looking forward to abolish this program. This lottery program was created in the year 1995 and it aims at diversifying the population of the United States. Through this program, 50,000 foreign nationals receive Green Cards, every year. To take part in this program, one must file an application online and the application can be filed for free.
People who hold high school diplomas or who have the required work experience can take part in this program provided they belong to countries that are eligible to take part in this program. Citizens of 19 nations are ineligible to participate in this program. These are the regions that have already sent as many as 50,000 immigrants to America over the past five years.
The goal of this program is to bring in people from different countries and diversify the country's population. This program also benefits the ones who do not have relatives or employers in the United States to sponsor them for lawful status in America, as this program does not require sponsorship. Anyone who meets the DV lottery requirements can participate in this program.
The registration period for DV 2015 came to a close on 2nd November, 2013. The ones who failed to file their applications to take part in this program this year are planning to file their applications in the next year. They need to remember that the Senate immigration reform bill that has made its way through the US Senate, would abolish this lottery program if it is signed into law.
There are many lawmakers who are against this lottery program. They want the country to grant immigrant visas to the STEM graduates who graduate from US universities instead of granting visas to the ones who take part and win the Green Card lottery.
The proposed comprehensive immigration reform legislation would benefit the undocumented immigrants and the country as a whole. But it would abolish the Green Card lottery. The fate of the Green Card lottery program is unknown. It might be scrapped if immigration reform is passed. Those who have not filed their entries this year and who are looking forward to enter the lottery program in the next year must wait for the US Department of State's announcement.