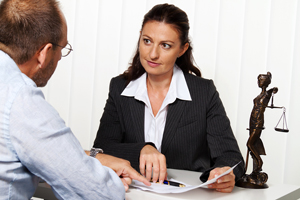 People not familiar with the immigration and naturalization process often consider hiring immigration attorneys who might be able to help them through the process. That is because most immigration forms are not easy to fill out. However, not all who call themselves immigration attorneys can help their clients; there are some scammers who pretend to be immigration attorneys who the applicants need to be aware of. So those seeking to file forms with USCIS will need to be very careful while hiring an attorney and keep the following in mind.
Legal Fees
Some attorneys charge a flat fee for the services they offer and some charge an hourly fee. The attorney may only charge for the services he or she is offering and the fee may not include the application filing fee that must be paid to USCIS. In this case, applicants must pay a separate fee to the attorney and the required application filing fee to USCIS. They need to check with the attorney what services the fee covers prior to hiring the attorney and making the payment.
For example, if a client is filing two different immigration forms, one to sponsor his mother and another for his father, some attorneys may charge per application while some may charge a flat rate for both the forms.  Checking with two or more lawyers will give a clear idea of the fees and services offered.
Has the Attorney Handled Similar Cases?
All immigration attorneys may not be familiar with all immigration applications and may not have handled all types of immigration related cases. Similarly, they may not have practiced all areas of the U.S. immigration law. Some may be specialized in family-based immigration and some may be familiar with cases related to asylum, etc. Applicants need to check what specialization their attorney has. Looking for attorneys who have handled cases similar to theirs will make them more comfortable.
Has the attorney ever been professionally disciplined by the State Bar?
A background check must be conducted before hiring an attorney to check whether he or she has ever been disciplined by the state bar. Attorneys who commit egregious acts will be punished by the state bars. If applicants find that the attorney they have selected was disciplined by the state bar, they will need to look for another attorney.
How long will it take to finish the work?
Another thing the clients must ask the attorney they are looking to hire is about the expected immigration application time frames. They need to know when their applications will be filed with USCIS. That is because the attorney may not be able to immediately file applications for them. They might also require some time to work on the case and gather the required evidence. The attorney must give the clients a time frame by when their applications will be filed after they submit the necessary documents. Clients must make sure that their attorney will file their applications at the right time.
Contact
Though the attorneys may not be able to guarantee success, they must be able to tell the clients approximately how long their case will take and what their chances of success are, based on their experience. They also must be available to explain to the clients the status of their cases and provide them with updates.
The above are few things that must be remembered by those looking to hire immigration attorneys to handle their immigration cases. However, not all immigration cases require attorneys. Not all USCIS immigration and naturalization applications are lengthy and complicated.
Our readers can take a look at the immigration forms on our website that come with step by step instructions that they can file by themselves without the help of an attorney. Our applications come with an easy-to-use form guide that will provide them with everything they need to file their applications with USCIS.