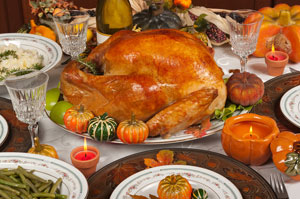 Everyone loves Thanksgiving and Americans enjoy the holiday weekend with their families, cooking, eating and shopping. Every American family has its own way of celebrating Thanksgiving and this day is celebrated as a day of giving thanks to the creator for his blessings. This day also marks the official beginning of the Christmas season.
Thanksgiving dinner prayer will be a part of the Thanksgiving traditions. Traditions for this day include watching the Thanksgiving Day Parade and enjoying movies. Seeing a game of football is another big part of the celebration.
Check out the following top five lists of Thanksgiving foods, side dishes, movies and songs and enjoy a great Thanksgiving weekend of food and family time!
Top Five Thanksgiving Foods
· Deep-fried turkeys
· Mashed potatoes dressed with garlic, cheese or bacon
· Cranberry
· Pumpkin pie
· Oyster stuffing
Top Five Dishes
· Cheesy Mashed Potatoes with Gouda and Crispy Pancetta
· Spaghetti Squash with Mushrooms and Parmesan
· Blistered Green Beans
· Lemon-Garlic Mashed Potatoes
· Brown Butter Brussels Sprouts and Apple
Top Five Movies
· A Charlie Brown Thanksgiving (1973)
· Planes, Trains and Automobiles (1987)
· Home for the Holidays (1995)
· An Old Fashioned Thanksgiving (2008)
· Free Birds (2013)
Top Five Songs
· "Give Thanks and Praises" by Bob Marley
· "Thanksgiving Song" by Mary Chapin Carpenter
· "What a Wonderful World" by Louis Armstrong
· "Thank You for the Music" by ABBA
· "Gratitude" by Earth, Wind & Fire
Apart from cooking and spending time with their families at home, some also spend some time shopping with their families. Some also take some time on the Thanksgiving Day to prepare for Black Friday, the busiest shopping day of the year, to make the day less stressful. However, many say no to shopping on Thanksgiving and many stores in the U.S. will remain closed on this day giving their employees the day off to celebrate.
Check out our Facebook and Twitter pages for updates on Thanksgiving and immigration.