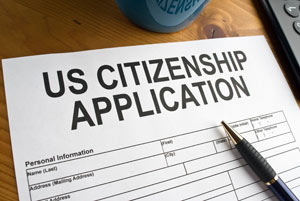 Becoming a naturalized U.S. citizen is a dream for most immigrants in the U.S. But it is not so easy to become a U.S. citizen. Those seeking to become citizens of the U.S. will need to fill out a lot a paperwork and pass tests. This is a multi-step process and eligible green card holders need to start the U.S.citizenship process by filing Form N-400, Application for Naturalization and the final step is taking the Oath of Allegiance.
Legal permanent residents (green card holders) who believe they meet the eligibility requirements for naturalization must collect a number of supporting documents to show that they are eligible for citizenship. They need to prepare themselves for the naturalization tests and the interview. It is mandatory to file error-free applications as discrepancies in applications will cause delays.
Prior to filing applications for naturalization, green card holders will need to make sure that they meet the general eligibility requirements. They must not file their N-400 applications if they are ineligible for citizenship. It is to be noted that the filing fee will not be refunded if they are ineligible and if their applications are denied.
Copies of all the required supporting documents must be submitted along with their naturalization applications. The form filing instructions for Form N-400 will include the list of supporting documents that must be submitted. Applicants will be scheduled biometrics appointments after USCIS accepts their applications. Followed by that, naturalization interviews will be scheduled. They must not miss these two appointments.
When appearing for their naturalization interviews, applicants must bring originals of their immigration papers and other required documents that prove their eligibility for citizenship. In case the supporting documents they provide are insufficient and if the immigration officers ask them to provide more documents, they will need to provide those documents without fail. Failure to provide the required documents will result in delays.
Many fail to check whether they have filled out their applications completely and accurately prior to filing them. Some forget to sign their applications. Such mistakes must be avoided. Applicants need to check once or twice before filing to make sure that their applications are filled out completely and signed.
USCIS will not accept cash; the filing fee must be sent using a money order or a check. Likewise, the exact amount must be sent as applications filed with the wrong fee or without the fee will not be considered.