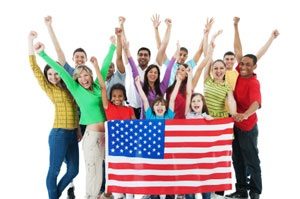 Attention deferred action recipients under President Obama's Deferred Action for Childhood Arrivals (DACA) program! Deferred action status granted under the DACA program has now been extended from two to three years.
Obama's DACA program was implemented on June 15, 2012. Under this program, certain undocumented youth who came here as minors and meet a variety of eligibility requirements are allowed to request consideration of deferred action for a two year period. Those who receive a relief from deportation under this program also can get work permits. Though this program will not grant them a permanent relief from deportation, it will postpone their deportation and allow them to legally live and work here.
The President made an announcement on November 20, 2014, that the DACA program will be expanded and eligible undocumented youth can request a temporary relief from deportation for a three year period. So now, current DACA recipients seeking to renew their status and the new applicants will be granted deferred action for three years.
Under President Obama's new immigration rule, all the undocumented immigrants born prior to June 15, 1981, will be allowed to apply for DACA status and the upper age restrictions will be removed. Similarly, those who got into the country before January 1, 2010 and meet all the DACA requirements will be permitted to file applications for this temporary status. USCIS has not yet implemented the new rule; it is likely to happen approximately 90 days following the President's announcement. Until then, the individuals who got into the U.S. before June 15, 2007 and who were below age 31 as of June 15, 2012, alone can file applications for deferred action under DACA.
USCIS has now extended the DACA period from two to three years and all those who apply now for initial DACA or for renewal will be granted deferred action status for three years. Those who believe they will qualify for this temporary status under the President's new rule must not file any applications now and will need to wait until USCIS makes an announcement.
Deferred Action Age Restrictions
Deferred Action for Childhood Arrivals (DACA) Renewal Guidance