Immigration has always been controversial in America. However, the country is made up of immigrants and they are an integral part of American culture. They are also important contributors to America's economy. Here are some notable immigrant Americans who were born in December.
Rita Moreno: A Puerto Rican American actress, Rita Moreno was born in Puerto Rico on December 11, 1931 to Rosa María and Francisco José "Paco" Alverío. She is the only Hispanic female performer to have won an Oscar, an Emmy, a Grammy and a Tony.
Philip Vera Cruz, a Filipino American labor leader and farmer was born on December 25, 1904, in the Philippines. He came to the U.S. in 1926 and worked on farms, canneries and restaurants. Later, he brought together small groups of Filipino farm workers and this led to the formation of the Agricultural Workers Organizing Committee (AWOC). AWOC was then merged with Cesar Chavez's National Farm Workers Association (NFWA) and became the United Farm Worker (UFW). Cruz served as vice president of UFW for a long time.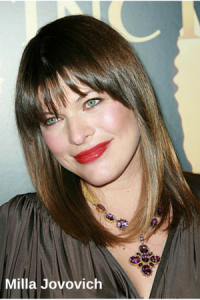 Milla Jovovich: The Russian American super model Milla Jovovich will celebrate her birthday on December 17. She is also an actress, musician and a fashion designer. Mila first moved to London in 1981 and later to California. She has starred in films such as The Fifth Element (1997), Ultraviolet (2006), and the Resident Evil (2002).
William Procter: William Procter, an English American industrialist, was born on December 7, 1801. He moved to America from England in 1830 and gained citizenship in the U.S. through naturalization. He is the co-founder of Procter & Gamble Company.
Kai-Fu Lee: Kai-Fu Lee who will celebrate his birthday on December 3 was born in Taipei, Taiwan. He immigrated to the U.S. in 1973. He is a computer scientist, executive and an IT venture capitalist. Kai-Fu Lee, the founder of Innovation Works, has also worked with Apple, Google and Microsoft.
Following is a list of other famous immigrant Americans who will celebrate their birthdays this month.
VA Shiva Ayyadurai (December 2, 1963) – Indian American scientist
Yasiel Puig Valdés (December 7, 1990) – Cuban professional baseball outfielder
Dr. Jim Yong Kim (December 8, 1959) – Korean American physician and anthropologist and the 12th President of the World Bank
Marcus Goldman (December 9, 1821 – July 20, 1904) – Jewish American banker and businessman
James Lewis Kraft (December 11, 1874 – February 16, 1953) – Canadian American entrepreneur and inventor
Jose Cabalfin Calugas (December 29, 1907 – January 18, 1998) – Filipino American artilleryman for the Philippine Scouts of the U.S. Army during World War II
Epifanio San Juan Jr. (December 29, 1938) – Filipino American literary academic, Tagalog writer and poet
Sabeer Bhatia (December 30, 1968) – Indian American entrepreneur and co-founder of Hotmail
Sir Philip Anthony Hopkins (December 31, 1937) – British American actor, composer and painter
Liz Masakayan (December 31, 1964) – Filipino American championship athlete in indoor and outdoor volleyball
Famous Immigrant Americans who were Born in July
Famous Immigrant Americans Who Were Born in August
Famous Immigrant Americans Who Were Born in September
Famous Immigrant Americans Who Were Born in October