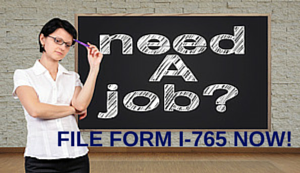 U.S. Citizenship and Immigration Services (USCIS) has announced that certain eligible H-4 visa holders can apply for employment authorization documents (EAD) from May 26, 2015. Director of USCIS, León Rodríguez made this announcement and stated that H-4 husbands of wives of H-1B non-immigrant workers who have applied for legal permanent resident status (green card status) in the U.S. will be allowed to get work permits and work in the U.S.
H-4 dependents of H-1B visa holders were earlier not allowed to work here. These dependents were only allowed to come to the U.S., with their immediate relatives who hold H-1B visas, and attend school in the country.
The following categories of H-4 visa holders will be allowed to get employment authorization documents.
H-4 husbands or wives of H-1B visa holders whose Form I-140, Immigrant Petition for Alien Worker has been approved, will be allowed to apply for work permits.
Or
Spouses of H-1B visa holders who have been granted H-1B status under sections 106(a) and (b) of the American Competitiveness in the Twenty-first Century Act of 2000 as amended by the 21st Century Department of Justice Appropriations Authorization Act, will be permitted to apply for work permits. Under this Act, H-1B workers seeking green cards will be allowed to work and live in the U.S. beyond the six-year limit.
This new rule will allow eligible H-4 visa holders to file Form I-765, Application for Employment Authorization to get work permits. They will need to file this form with some supporting documents to show that they are eligible to work here. Their applications must include the form filing fee of $380.
However, USCIS will not accept EAD applications now, but only from May 26, 2015. Once the H-4 visa holders' applications are approved and once they are issued work permits, they can start working in the U.S.
USCIS expects to receive around 179,600 applications for work permits from H-4 dependents in the first year. Followed by that, the agency is likely to receive 55,000 applications, per year.
Note: This rule will come into effect only on May 26, 2015 and no applications for work permits will be accepted by USCIS from H-4 visa holders until then.