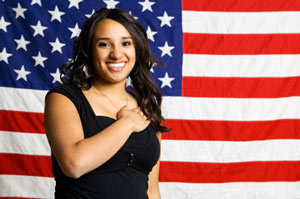 The last step in the naturalization process is reciting the Oath of Allegiance. To obtain citizenship in the United States, a Green Card holder must file Form N-400, Application for Naturalization. It must be remembered that not all the permanent residents can file this form; only legal residents who meet all the naturalization requirements can file this form to obtain U.S. citizenship.
After the naturalization applications filed by eligible permanent residents are approved, they will be required to submit biometric information. Followed by that, the applicants need to take the naturalization test that includes the civics and the English tests.
Applicants who get through this test will be required to take the Oath of Allegiance that will permit them to become naturalized citizens of the United States. USCIS will schedule the successful applicants for the naturalization oath ceremony and send them letters with information on the time and the place for the ceremony.
During the oath ceremony, these applicants must give up their permanent resident status and swear their allegiance to America. Once they take the oath, they will be granted naturalization certificates. Oath ceremonies will take place in courtrooms in federal or state buildings or in convention centers, in the districts where the applicants live. Applicants must not miss this ceremony and if they believe that they cannot make it to the ceremony, they need to request a new date. In that case, they need to provide a valid reason why they cannot make it to the scheduled ceremony.
There are certain documents that the applicants need to take with them to the oath ceremony. They must not forget to take with them Form N-445, Notice of Naturalization Oath Ceremony, that was issued to them by the USCIS. This form will either be sent to the applicants after their interviews or granted to them at the conclusion of their naturalization interviews. Documents that they need to bring to the ceremony will be listed on that notice. They must not forget to bring their Green Cards as they cannot take the oath if they do not turn in those cards during the ceremony.
While taking the Oath of Allegiance, the applicants will renounce foreign citizenship. They will promise that they will support the constitution of the United States and that they will bear arms on behalf of the country. They will also agree to serve the U.S. Armed Forces. They will receive their naturalization certificates with which they can live as proud U.S. citizens, after they swear their allegiance to the country.