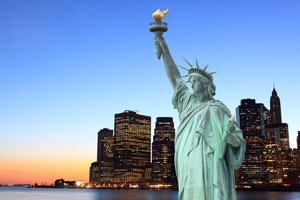 The Statue of Liberty was given to the people of the U.S. by the people of France. It was given to America, over one hundred years ago, in recognition of the friendship established between the two countries during the American Revolution.
Formally called "Liberty Enlightening the World", the Statue of Liberty was created out of sheets of hammered copper by the French sculptor Frederic-Auguste Bartholdi. The steel framework of the statue was designed by Alexandre-Gustave Eiffel, the man who designed the Eiffel Tower. However, the copper exterior of the statue has turned green due to oxidation and now appears green.
The statue was then erected atop a pedestal on a small island known as the Liberty Island, formerly called Bedloe Island, in Upper New York Bay in 1886. Lady Liberty stands as a symbol of freedom and democracy and is also one of the most iconic and recognizable landmarks of the world.
Libertas is the Roman goddess of freedom and Lady Liberty represents that Roman goddess. She holds a torch and a tablet with the inscription, "JULY IV MDCCLXXVI (July 4, 1776)", the date of the American Declaration of Independence. There are seven spikes on her crown and those spikes represent the seven continents and the seven oceans of the world. The Statue of Liberty measures 93 meters from the ground to the top of the torch. Visitors who wish to reach the statue's crown will need to climb 354 stairs. On an average, 4 million people visit the Liberty Island every year.
During the second half of the 19th century, the statue became a symbol of immigration. During that time, more than nine million immigrants came to the U.S. and the first thing they saw when arriving was the Statue of Liberty. "The New Colossus", a sonnet by the American poet Emma Lazarus is about the Statue of Liberty. This poem has been engraved on a bronze plaque inside the pedestal of the statue.