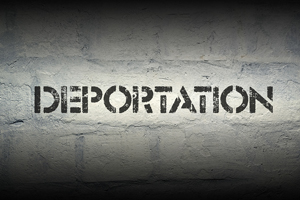 The immigration reform plan that President Obama implemented using his executive authority will allow more undocumented immigrants to live in the U.S. without fear of being removed from the country. However, many still fear deportation as the President's plan has left out more than half of the undocumented immigrants.
Jorge Steven Acuña came to the U.S. illegally from Columbia when he was eight years old. His father was arrested and his whole family was placed in a maximum-security block at a detention facility, by U.S. Immigration and Customs Enforcement in 2012. However, they were released and granted one-year reprieve from deportation following pressure from politicians.
Followed by that, Acuña applied for deferred action status under the Deferred Action for Childhood Arrivals (DACA) program that granted him temporary legal status for two years. Acuña, who is now 21 years old, says that he considers the U.S. his home though life was not so easy as an undocumented immigrant. Acuña now attends college under the Maryland Dream Act under which undocumented high school graduates can receive in-state tuition at public universities in the state. He says that the President's new reform plans will save him around $500 in fees as the term between DACA renewals has been extended from two to three years.
President Obama's executive action, announced on November 20, will expand the DACA program and protect more undocumented immigrants. It will allow more undocumented youth like Acuña to live here without fear of being deported. However, the President's actions will not protect the undocumented parents of these undocumented youth who qualify for DACA. Parents of the DACA recipients will still face deportation if encountered by immigration authorities and this is one reason why the undocumented immigrants in the country say that Obama's actions did not go far enough.
Obama's DACA program and his new immigration rule would together benefit more than 5.4 million immigrants who are out of status. However, the DACA expansion will only protect the undocumented youth but not their parents and other family members. Acuña's parents can stay in the U.S. only for a temporary period after which they are likely to be placed in deportation proceedings. They can remain here if they are granted an extension of stay by ICE. Acuña who now works part-time to pay for school is worried about losing his family.
Similar to Acuña, there are many other undocumented youth in the U.S. who qualify for DACA but do not apply for it due to fear that their undocumented family members will be deported if they identify themselves as undocumented. According to U.S. Department of Homeland Security (DHS), information the DACA applicants provide while signing up for the program will not be used in immigration enforcement proceedings. However, undocumented immigrants say that they still have to live here with fear of deportation as the President's plan does not cover all those in the U.S. who are out of status. They are now waiting for the U.S. Congress to pass a comprehensive legislation for immigration reform that would benefit all the undocumented immigrants and not only a certain group.