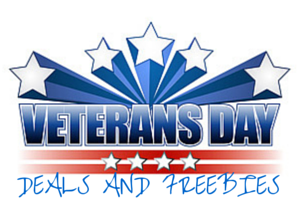 Veterans Day is celebrated every year to honor the patriotic men and women who served the U.S. This day is celebrated every year on November 11 and several events will be conducted throughout the country to mark Veterans Day.
There are some stores and restaurants in the U.S. that offer freebies and discounts on this day in order to thank the veterans. The following is a list of stores and restaurants in the U.S. offering Veterans Day discounts, freebies, free meals and dinners.
Olive Garden: Olive Garden will offer free entrée for veterans and active duty military members, at participating locations on Veterans Day, November 11, 2014. OliveGarden.com
Starbucks: Offers at Starbucks can be availed by veterans, active duty military members and their husbands or wives. Starbucks will offer free tall brewed coffee at participating stores. However, veterans and members in active duty will need to call ahead and confirm their participation.
Denny's: Denny's, America's diner, invites veterans, active and inactive military personnel to participate in the "Free Build Your Own Grand Slam" between 5 am and noon on November 11, 2014. Interested personnel can call the locations and check if they are participating. Dennys.com
Marco's Pizza: Free medium 1-topping pizzas will be offered to active duty members and veterans by Marco's pizza, today. Marcos.com
JCPenney: This store offers a 20 percent discount on all items for current and former military personnel and their family members between November 3 and 15. JCPenney.com
Free Car Washes
Service members and veterans can check out GraceforVets.org to find out spots that are offering free car washes on Veterans Day. They can find a location nearest to them by visiting the Grace for Vets website.
Great Clips
Great Clips will give away free haircut cards to people visiting the salon for haircuts on November 11, 2014, to pass along to veterans. These cards can be used by veterans for free haircuts between November 11 and December 31. Apart from that, veterans and active military personnel visiting the salon today can receive free haircuts. GreatClips.com
Though some places may not require military identification documents to avail offers, some places may ask for some form of military ID such as a military ID card, drivers license with veterans designation, Veterans Organization Card or some other form of identification to receive the Veterans Day deal. Prior to visiting the stores and hotels, veterans and other military personnel will need to call and verify locations and check if they are participating. That is because, not all franchises will offer discounts and free meals as different franchises have different policies.