The U.S., a nation that is the envy of the world, was created by immigrants who came from different parts of the world. Many came here to enjoy the freedom offered by the land. They have also made contributions to the country that offered them freedom and better lives. Many immigrants have also fought for the country by serving in the U.S. Armed Forces. Here is a list of famous immigrant Americans who have contributed to different aspects of American life.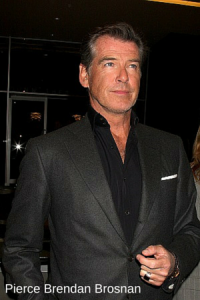 Mary Harris "Mother" Jones, an Irish-American schoolteacher, was a fearless fighter for workers' rights. She was the co-founder of Industrial Workers of the World and was the most famous female labor leader of the 19th century.
Monique Truong, who was born in South Vietnam on May 13, 1968, moved to the U.S. with her mother when she was six years old. She obtained citizenship in the U.S. in 1980. This Vietnamese-American writer is well-known for her novels like The Book of Salt and Bitter in the Mouth.
Madeleine Albright, a Czechoslovakian American politician, celebrated her birthday on May 15. She was born in Prague, Czechoslovakia in 1937. She was a toddler when her parents fled Czechoslovakia and moved to the U.S. due to invasion by the Nazis. She became a U.S. citizen in 1957. She made history when she became the first woman ever to be named as the U.S. Secretary of State.
Pierce Brendan Brosnan is best known for his role as British spy James Bond in the popular James Bond film series. Pierce took the Oath of Allegiance and became a U.S. citizen in 2004. He now has Irish and American citizenship. Pierce, who celebrated his birthday on May 16, is also well known for his charitable work and environmental activism.
Miguel López-Alegría, a NASA astronaut, will celebrate his birthday on May 30. Lopez-Alegria, who was born in Spain obtained U.S. citizenship through naturalization. He has performed ten spacewalks so far in his career for which he holds the all-time American record. He also holds record for being a member of the longest spaceflight mission.
Other notable immigrant Americans who were born in May:
Douglas James Henning (May 3, 1947 – February 7, 2000) – Canadian American magician
Irving Berlin (May 11, 1888 – September 22, 1989) – Russian American composer and lyricist
Max Kohl (May 12, 1901 – December 14, 1981) – Polish American businessman
Craig Ferguson (born May 17, 1962) – Scottish American TV host and actor
Carlos Felipe Peña (born May 17, 1978) – Dominican American professional baseball player
Frank Russell Capra (May 18, 1897 – September 3, 1991) – Italian American writer, film director and producer
Emile Berliner (May 20, 1851 – August 3, 1929) – German American inventor
Raymond Burr (May 21, 1917 – September 12, 1993) – Canadian American actor
George Andrew Olah (born May 22, 1927) – Hungarian American chemist
Dado Banatao (born May 23, 1946) – Filipino American entrepreneur and engineer
Michael John "Mike" Myers (born May 25, 1963) – Canadian American actor, comedian, singer, screenwriter and producer
Arun N. Netravali (born May 26, 1946) – Indian American computer engineer
Henry Alfred Kissinger (born May 27, 1923) – German American diplomat and political scientist
Bob Hope (May 29, 1903 – July 27, 2003) – English American comedian, actor, singer and author
Famous Immigrant Americans who were Born in July
Famous Immigrant Americans Who Were Born in August
Famous Immigrant Americans Who Were Born in September
Famous Immigrant Americans Who Were Born in October
Famous Immigrant Americans Who Were Born in November
Famous Immigrant Americans Who Were Born in December
Famous Immigrant Americans Who Were Born in February
Famous Immigrant Americans Who Were Born in March